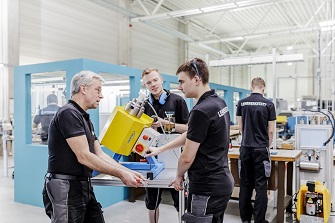 Apprentice workshop
Vocational training is very important to us. We think it is necessary to offer young people a good education in exciting professions. That is why we train cutting machine operators and tool mechanics every year in our own training workshop. We also regularly train industrial clerks.
Pupils can do a school internship with us to find out if a technical profession is right choice for their future career.
If our capacities allow, students can also complete their basic internship with us.
Send us your applications or enquiries to: karriere@ahlberg-metalltechnik.de
Cover letter, CV and testimonials help us to get to know you a little in advance.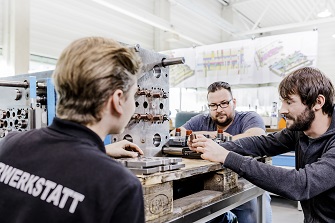 Carreer
Who we are looking for:
First professional experience, long-term skilled worker, entry into professional life as an apprentice? The decisive factor for us is that you are motivated, take responsibility and want to contribute to the success of the company from day one.
What we offer:
As a rule, an open-ended contract in an owner-managed, medium-sized Berlin company. Flat hierarchies and the opportunity to get actively involved. Modern premises for production and administration in our new factory in the Technology Park Berlin-Adlershof. Company-owned canteen. Easily accessible by public, with parking spaces on the company premises – for bicycles and cars.
Here you can find our current vacancies. Apply by specifying the job number, preferably electronically at:
karriere@ahlberg-metalltechnik.de
If the right job is not offered, we are also looking forward to speculative applications.
We will store your personal data for the application process. We assume that you will agree to this as soon as you send us your application. Six months after the end of the application process, we will delete your data, unless we agree otherwise with you.